We at Zenith Eco Energy Inc. have developed protection plans for your furnace or/and air conditioner. This is something we are very excited about, because protection plans save money for our customers.
When you buy something, often, it will come with a warranty. This warranty is a bit of an insurance against future damage. You truly plan to take care of your new purchase, but you know that the future is unpredictable.
Don't Risk It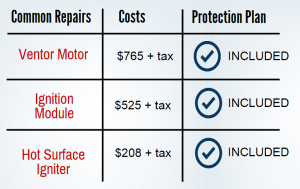 This becomes even more true when one considers furnaces or ACs. The thought of no heat during Ottawa's famous late January deep-freeze or no air conditioning during one of the many heatwaves attacking the city in the summer is pretty scary. It's okay to admit it. Extreme heat and cold are not just a matter of comfort; they're a matter of health, and so ensuring your home is at a comfortable temperature is important.
So what is a protection plan? Well, odds are that if you bought a new furnace or airconditioner, you probably purchased a warranty. But what about when your warranty expires? Or what if your furnace/AC is not new. What do you do now?
You get a protection plan. Buying any one of our protection plans gives you free labor, and full parts coverage. This means that if one of the very expensive furnace parts requires replacements, you're not on the hook for the few hundreds of dollars it takes to buy the part and pay for the contractor's service. You get 24/7 service from insured, certified, and respectful professionals.
All at the lowest price in the market. Seriously, if you bought the $8.99 a month plan and wanted to pay upfront, we would just round you down to $100. For $100, you could have complete peace of mind that your furnace or AC will always work when you need it, and if it doesn't, someone will be there to assist you immediately– and this happens without breaking the bank!
Experts' Choice
HVAC
We, at Zenith Eco Energy Inc. truly love these plans because they bring peace of mind to our customers. In fact, one of our technicians has actually purchased the plan for himself! Think about that: an expert capable of fixing their own furnace or air conditioner has purchased the same plan we are offering to you, for the same price. This is because they believe this plan is so valuable that even they need it!
That's why we're so pleased to offer our new protection plans: the Peace of Mind Plans, and the Ultimate Plans that also include maintenance and tune-up (regularly valued at $129). For all our plans, you can pay monthly, or pay one fee upfront (just round down to the nearest five).
So what do you think? Are you on board the "We Love Protection Plans" bandwagon yet? Ready to protect your furnace and AC?